Moving Towards Abstraction
August 7 – September 7, 2019
Opening Reception
Saturday, August 17th
5:00 pm – 7:30 pm
Artist's Talk
August 15th at 6:30 pm
Location
The Barn Gallery
Shore Road & Bourne Lane
Ogunquit, Maine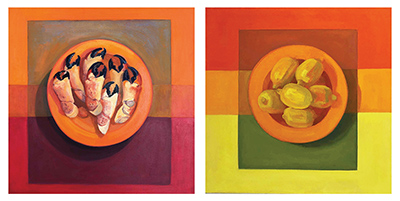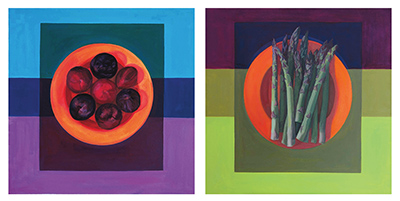 DIFFERENT WAYS OF GETTING THERE:
One Artist's Journey
I have always loved drawing from life. Over the years my work has reflected a strong personal interest in the visual world around me and I've explored all the traditional subjects: the figure, interiors, still life, landscape and architecture.
The territory I haven't explored now lures me away from observed reality towards abstraction. Gradually I've been shifting my subject matter to emphasize the underlying formal elements of painting and the process of painting. This exhibition takes you on my journey through the Strawbery Banke landscapes, Complementary Palate still life images to the painted and printed monotypes.
Below are some strategies I've employed to move towards abstraction.
CLOSE-UP VISION
In my series of Strawbery Banke architectural landscapes, I began cropping my view of houses and moving in to a close-up vision of a smaller area, which eliminated recession into a deep space.
SQUARE FORMAT
The square with it's symmetry and center visual pull encouraged me to see the shapes of the landscape in relation to more geometric components like verticals, horizontals and diagnols. Forms were flattened; space became shallower.
ALTERED, UNATURAL COLOR
I began shifting my color palette and using more saturated colors which emphasized color wheel complementary colors, color families, color temperature and intensity. This shift helped me move further away from observation. My still life series: Complementary Palate plays with this theme. I have pulled the delicious colors of my food subjects and used them in the surrounding space to give the viewer an enticing and delectable visual treat of complementary colors.
THE PROCESS IS THE SUBJECT
The process of painting in oil on a plexi-glass plate, transferring the image to paper by using a press and finally working back into the image with pencils and paint is a great way to explore new imagery. Gesture, hand movements and using certain tools such as rollers and scrapers become important. Formal elements such as interlocking positive and negative space and the process of putting down a mark and then erasing it happens fast and allows me to tap the unconscious and welcome the unexpected. My non-representational, abstract monotypes continue to show my love of color and geometric, architectural form.
What You'll See at the Exhibit